Sorbent Boom Deployed at Crash Site
On October 17, a small commuter plane carrying 42 people skidded off the runway in Unalaska, Alaska. Unalaska is located in the Aleutian Islands and is home to Dutch Harbor, one of the busiest US fishing ports and a frequent point of reference on the popular Discovery Network TV show "Deadliest Catch." Two people were critically injured while 10 others required medical care. Amongst the passengers was a high school swim team. No one on the swim team was injured.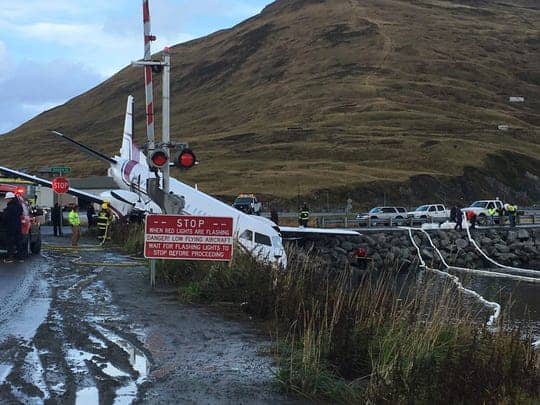 Photo Credit: Jim Paulin
The relevance of this accident for Texas Boom Company relates to the deployment of oil only sorbent boom shown in the picture above. The sorbent booms are deployed in the water on the right side of the image. Three sorbent booms are deployed in parallel, providing redundancy and added absorbency. Sorbent boom is designed to repel water while absorbing oil, fuel, and other hydrocarbons. Because it repels water, the sorbent oil boom also floats. Fortunately, it doesn't appear that the plane crash resulted in a major spill. IT does highlight the need to always be prepared, and to keep response supplies at the ready for quick deployment in the event of any unplanned emergency. Speed is critical when it comes to the effectiveness of a spill response. The quicker the containment boom can be deployed, the less likely the spill is to spread.
Texas Boom Company offers a range of sorbents and would be pleased to consult with you on a stocking program for oil only boom, pads, and rolls. Spill kits are also available. The cost of planning ahead is far outweighed by the resulting costs of any spill.
Stay Informed
When you subscribe to the blog, we will send you an e-mail when there are new updates on the site so you wouldn't miss them.