Dredging Projects Using TBC Silt Curtains
Texas Boom Company has produced a number of silt curtains recently from dredging projects across the US. As you would expect, as a dredging operation takes place, mud and sand are stirred into the adjacent water. This material remains suspended in the water until it washes away or settles back to the bottom. Dredgers use floating silt curtains (turbidity curtains) to keep silk and sediment from migrating while suspended. This helps to avoid muddying local waterways during the dredging process. Whether used to meet regulatory requirements or simply as a courtesy to others, silt curtains are effective in helping to reduce sediment runoff.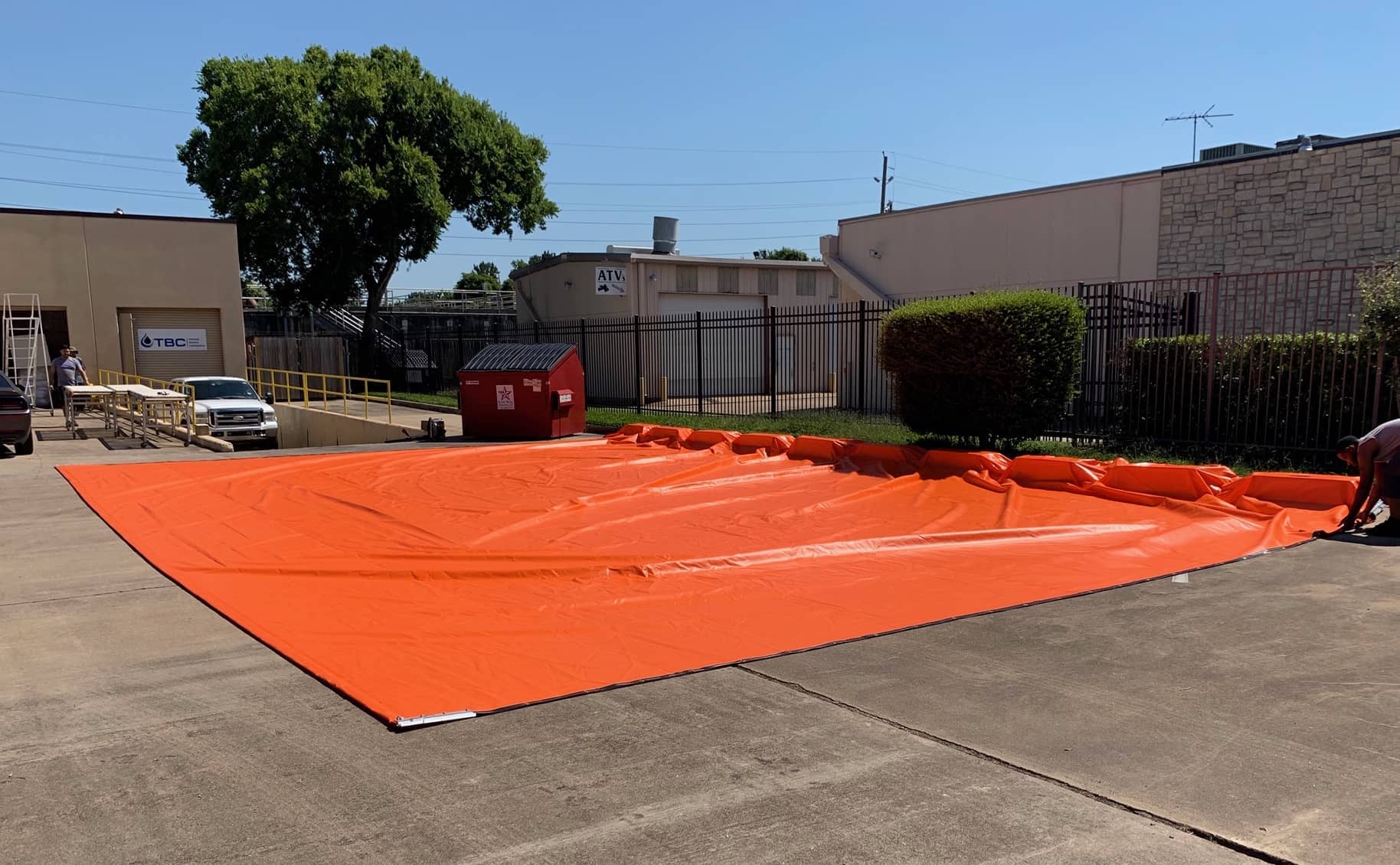 Three recent projects are highlighted below, selected because our customers were kind enough to share pictures of the silt curtains in use.
The first project was a roadway construction project here in Texas. As can be seen in the image, the silt curtain is effective in keeping the sediment from escaping the construction area. Because the silt is contained, it will eventually settle in place, leaving the area water clear and free of an abundance of eroded mud.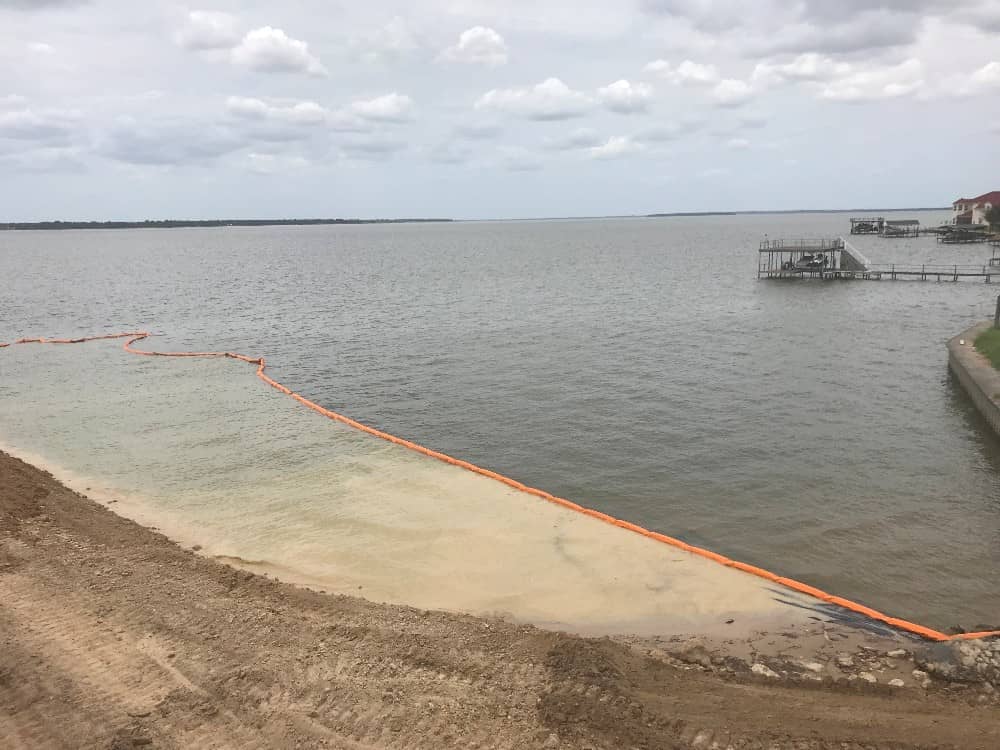 Next, we share a dredging project ongoing in St. Thomas, US Virgin Islands. The silt curtains were installed to enclose the area where the dredge was operating, greatly reducing any turbidity drifting away from the dredging zone. The performance of these silt curtains has been rated as A+ by the local government inspectors.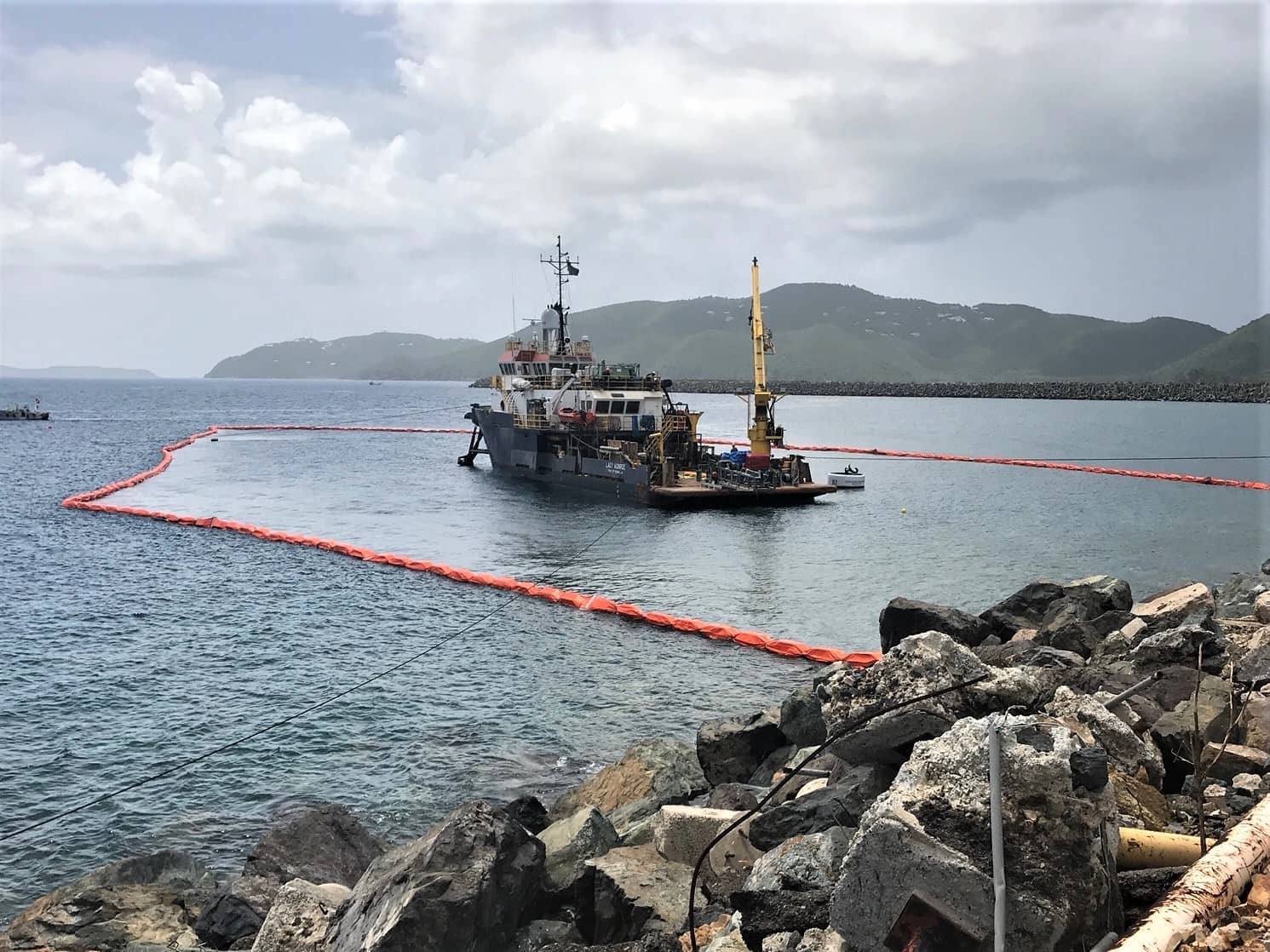 Finally, we provide a look at a dredging project happening on the US west coast. Like the others, the silt curtains are positioned to help capture any suspended dirt and mud and allow it to re-settle without moving downstream. These silt curtains have also fully satisfied our dredging company customer.
If your dredging or marine construction company utilizes silt curtains, or you wonder whether you should be, feel free to contact us for a consultation and a review of your project requirements. Texas Boom Company does more than containment boom, and we are here to be your source for silt curtains. Whether you need 30-inch skirts or 30-foot skirts, permeable or impermeable skirts, TBC has you covered. Varying fabric weights and connection designs are available, covering DOT Type I, Type II and Type III specification requirements. We can tailor a turbidity curtain to meet your exact needs, including tight delivery deadlines. No job too small. No job too large.
Stay Informed
When you subscribe to the blog, we will send you an e-mail when there are new updates on the site so you wouldn't miss them.