Hurricane Induced Spill Highlights Need to be Prepared
As the recovery in the Bahamas continues following the damage caused by Hurricane Dorian, it offers a lesson in the value of preparedness. Companies and governments around the globe work to balance the expense and efforts to plan for all contingencies against the threat of a wide variety of disasters and the resulting damage. With regard to oil spills, there is no doubt that the damage can vast and extensive. It highlights the need to have oil spill response equipment on-site and ready for immediate deployment. Waiting to bring oil spill containment boom, oil skimmers, and other equipment in after the fact, especially when infrastructure may be damaged and access severely limited can often compound an already serious problem. The sooner the equipment is deployed after a spill, the more effective the containment and recovery efforts will be.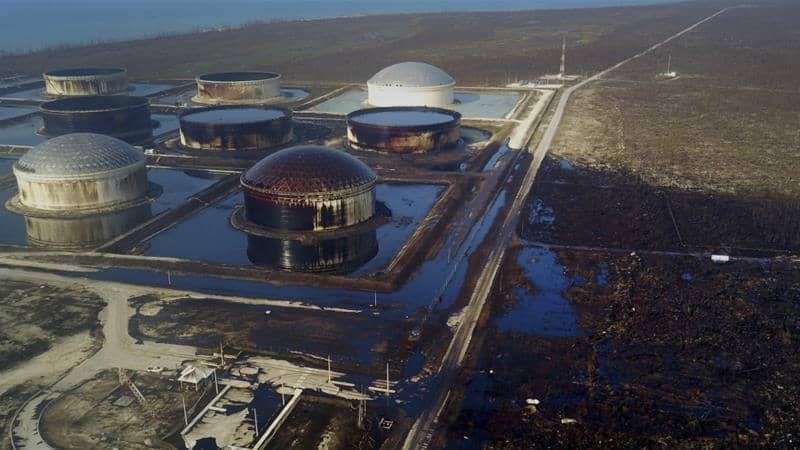 Photo Credit: Ramon Espinosa/AP
The spill that has occurred in the Bahamas at the Equinor tank farm resulted from the tops of six storage tanks being blown away during the storm, Early feedback indicated the spills appears to be mostly land-based. However, reports are beginning to trickle in that slicks are being spotted in the surrounding waters. Deploying oil containment boom and sorbent boom to keep the oil from migrating could help this situation until full-blown recovery resources arrive.
No reports have been issued as to what resources were staged on-site in preparation to react quickly and effectively to this type of spill. It does serve as a reminder to other companies to plan ahead and invest in the supplies required to tackle a spill, regardless of the root cause. The costs of containment equipment are a small investment compared to the expenses associated with a major environmental disaster. Contingency planning for oil spills is critical to minimize environmental damage, and after the fact, responses are often just too late.
Related Posts
By accepting you will be accessing a service provided by a third-party external to https://texasboom.com/