Fuel bladder tank containment can be used as a preventative measure in the event of a fuel bladder tank leakage or damage. Fuel bladder tanks are more mobile than traditional fuel tank tanks, but they can still be spilled. Texas Boom has manufactured military fuel bladders for the past several years. These bladders can be folded or rolled when empty. They also have a multitude of different functions that they can perform. You can trust that the products at Texas Boom will be built with quality in mind.
EPA regulations also require fuel tank containment. Petroleum is classified as oil by the EPA. Therefore, any entity that stores fuel quantities exceeding 1,320 gallons must follow the EPA regulations on fuel containment. Housing storage units in secondary containment units, such as berms, are one component of fuel storage. This prevents spillages from polluting navigable waterways as defined under the Clean Water Act. Oil and fuel can be a danger to the environment if it is sprayed. SPCC Plans are required to ensure compliance with EPA regulations. They outline countermeasures that organizations can take to protect the environment from the wide-ranging environmental impacts of substances stored. Secondary containment of fuel and other substances is one countermeasure. This is why fuel containment units are required.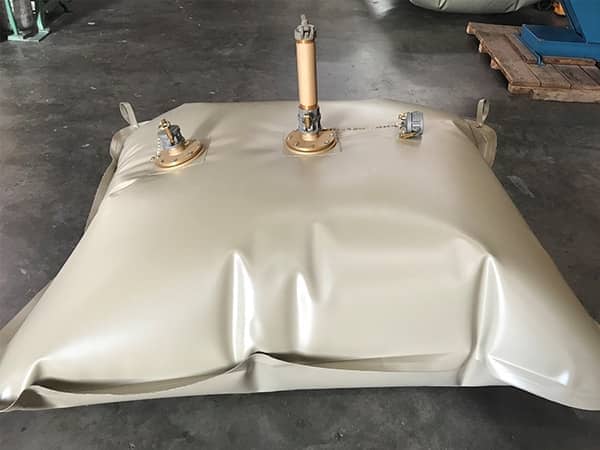 The moment that fuel is added for the first time, the bladders start failing. Additives in aviation fuels and automotive fuels can contain volatile chemicals which leach polymers from rubber and urethane. The bladder can become unusable after 50 years of degradation. This happens when there is less fuel in the tanks or if the aircraft is outside in dry, hot climates. The bladder material may also be affected by aftermarket additives. Owners can choose to replace their bladder with a new one or have their old bladder repaired. While most repair shops charge a small fee to clean and test a bladder, a thrifty owner can save money by pulling his bladder and sending it off for repair and inspection. It is important to carefully remove the bladder, taking care not to loosen any connections or clips. A whitish appearance to an old bladder is a sign that it has dried out.
Leaks may be something else. A leak can be invisible or hidden. It will typically look like a seep with one leak inside the tank and perhaps many channels leading to the spot where it is discovered externally. Some leaks are difficult to spot in the field, and the location can sometimes be misleading. Owners don't need to purchase from the factory if there is a leak. However, it's worth getting at least a price. Owners have the option of either repairing or replacing their equipment. Repair cells are available from all manufacturers, but only one company can do repairs. What's the difference? Texas Boom has created their bladders & tanks with quality and performance in mind. Texas Boom has created their products in a way that prioritizes quality over quantity. Texas Boom will advise you on which products you need based on your situation.