Inflatable Silt Curtains
At Texas Boom Company, we stock a wide range of products that meet the needs of many of our customers. We develop these core lines of containment boom, silt curtains, and secondary containment berms based on a long history of fabricating these type products per the specifications of our clientele. TBC has also learned along the way that many of our customers have a unique need that isn't necessarily addressed by one of our off-the-shelf solutions.
A recent example includes a new customer who is looking to use silt curtains to help manage the flow of algae and had a few criteria that were important to him as he looked to purchase silt curtains. His first requirement was a durable fabric that would hold up over repeated use. He planned to deploy, retrieve and store the silt curtains daily, and he wanted a longer-life silt curtain that would hold up to frequent use.
Next, the customer was interested in a permeable skirt that would allow water to flow through the skirt to reduce pressure on the silt curtain. However, it would still be important for the geo-textile used in the silt curtain skirt to impede the flow of algae and vegetation. These were the fundamental factors that necessitated the need for the silt curtains in the first place.
Storage and transport were also strong considerations when selecting the design of these silt curtains. Because they would be deployed and then retrieved, transported and stored frequently, the customer wanted silt curtains that would take up minimum space when not in use. Concern was expressed about how much space foam filled floats (freeboards) would require during storage. The bulk of the silt curtains during transport was also a consideration. The weight of each section was also factored into the decision process. Handling and lifting these curtains precluded fabricating overly long sections.
The style of silt curtains was also taken into consideration. Since these silt curtains were not going to be deployed in strong currents or with significant exposure to heavy winds, it made Type I silt curtains appropriate. Type 1 silt curtains utilize grommets along the end seams to offer a durable attachment mechanism. Stainless steel nuts and bolts are used to connect the grommets that match-up between silt curtain sections. In addition, a shackle is used between the end sections of the ballast chain to offer additional tension strength across the entire silt curtain deployment.
After consulting with this customer, an order was placed for custom specified silt curtains that offered the following specifications:
10 inch inflatable floats featuring Monsun valves and pressure relief valves
48 inch permeable skirt
26 oz PVC fabric
5/16 inch ballast chains
Grommeted end connectors
50 foot silt curtain sections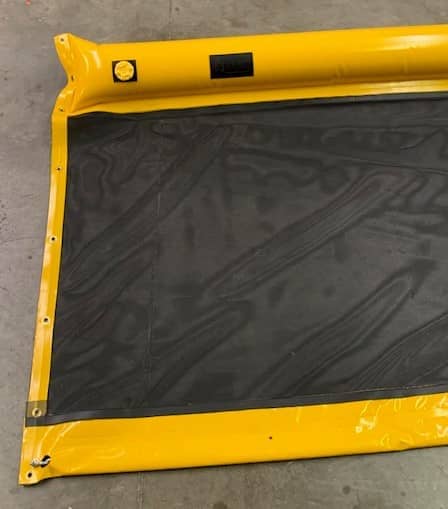 Opting for an inflatable float on the silt curtains allows for great buoyancy while also offering the ability to deflate when not in use. Because foam wasn't used, these silt curtains can be folded and rolled into small manageable bundles that take up minimal storage space and can easily be utilized by a single crew member. The floats can be quickly inflated by a variety of air sources, and are often filled by using a leaf blower to quickly tackle the job. Pressure relief valves were added to prevent over-inflation that could damage the inflatable floatation chambers over time. The pressure relief valves are calibrated to release air when the internal pressure exceeds a set psi amount.
The combination of design elements for this silt curtain project was unique. Texas Boom Company takes pride in collaborating with our customers to create custom solutions. We listen to our customers, make suggestions, and land on a design that meets their need and their budget. Allow us to help tackle your next containment boom or turbidity curtain challenge.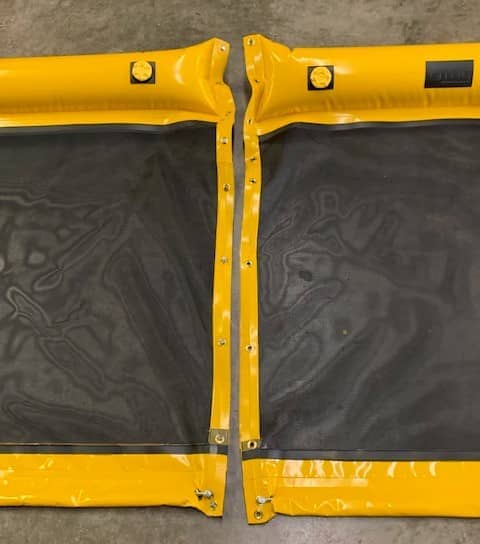 Stay Informed
When you subscribe to the blog, we will send you an e-mail when there are new updates on the site so you wouldn't miss them.